La Tajadera del Tío Roy's Pyrenean Mastiffs
La Tajadera del Tío Roy is the first registered kennel devoted to the Pyrenean Mastiff breed. We began selective breeding exclusively of this breed in 1977. It is also a high honour to have the world record in national championships in the history of Spanish cynophilia and original breeds.
The Pyrenean Mastiff is the only original Aragonese dog breed. For centuries it function
ed as the guard of sheep and cattle that made the seasonal migration from High Aragón to the bank of the River Ebro, Zuera mountains, the Five Villas or to the Maestrazgo. It also made the seasonal migration in the Catalonian and Navarre Pyrenean.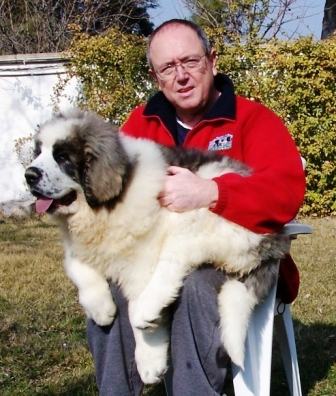 Rafael Malo with Spain Simo de la Tajadera del Tío Roy

The Pyrenean Mastiff character is noble, balanced and exudes self-confidence. That is the reason that the Pyrenean Mastiff is both an excellent guard for and a great companion to children, who he protects as he protected cattle from wolf and bear attacks long ago.
During these years we have tried to select powerful dogs, with a good temperament and a good physical structure, for dog shows but, mainly, to be a member of the family.
In competition, our main goals have been Spanish Championships and the annual Spanish "Monográficas" (which are specialty shows only for Pyrenean Mastiffs) organized by the Pyrenean Mastiff Club of Spain. These shows are the most competitive in the world since that years best animals take part in it. We are very proud of the results that not only our dogs but also our dogs´ progeny have had in this most prestigious event.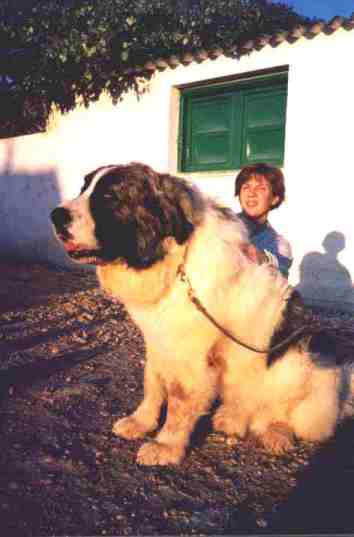 Multi Ch. Yoni Bi Gud de la Tajadera del Tío Roy

La Tajadera del Tío Roy´s mastiffs have often won in the hands of their owners. We have enjoyed the satisfaction of our dogs being used in starting successful breeding programs.
Although we rarely take part in competition outside of Spain ourselves, we are very proud of the European and World championships won by our clients with their Tajadera del Tío Roy´s dogs!
In any case the best thing our dogs have given to us has been their company and friendship. After so many years we have special memories of those who have already passed on: Thor, Dula, Alma, Bomba, Indio, Mallazo, Chico, Dini, Pistola, Papadas, Sharanda, Chulín, Navaja, Augusta, Golfa, Javi, as you were nicknamed at home..., be sure that we shall never forget you.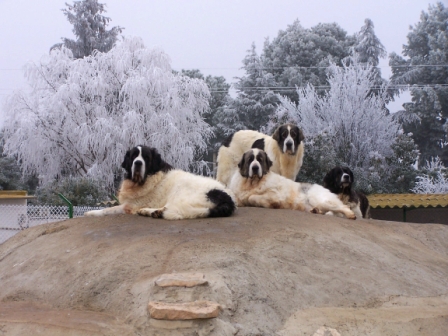 Pyrenean Mastiffs at La Tajadera del Tío Roy kennels